About Gurudev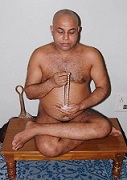 A divine soul was born on 7 March 1970 in Veena. Friends and family members used to call him Bunty bhaiya .From an early age, he displayed signs of great compassion and the qualities of a natural leader. Munishri has a sharp intellect . In childhood he was notorious and many such interesting and spellbound tales of his childhood and teenage years are there.
At the very young age of 21, when Bunty bhaiya came in contact of "Saint shree 108 Acharya Shri Viragsagar Ji Maharaj",his search for truth intensified. He was getting detached from materialistic World which can give nothing except instable happiness ,sorrows and grievances.
All these events brought a great change towards his vision of life and nobody had even thought that this naughty child would become one of the most worshipped and greatest jain saint .Guruji is spreading essence of his great spiritual ideas through pravachans .Everyone can easily understand the munishri pravachans whether he is a jain or non jain .The credit of changing the lives of many goes to munishri ,he has inspired and taught us the way to lead a peaceful life with a motto of "Jiyo aur Jeena do"
In bhramchari days of his journey towards becoming a Digamber jain saint ,he was favourite of all. He had a great passion towards Adhyatama .He had a strong aim to achieve panch mahavrat in his life.All the devotees in his bhramcharya days used to call him as chaye(Tea) wala bhaiyaji. Just before becoming elak (the next step toward becoming a jain saint ) he along with other bhramchari bhaiyas toured shikarji.
He then placed his steps in Elak state .Elaks are those who used to wear a single piece of cloth (Langothi) around their waist .During his elak days the devotees used to spend their maximum time with him since he used to attend and listen everyone with great humility. This down to earth personality makes him favourite of all.
Message To India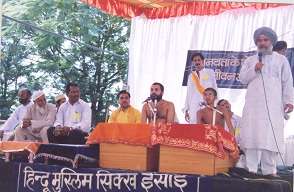 Muni shree has a dream of seeing India as a developed country, which will excel in every kind of development aspect, which will serve as an example for other countries to follow. Furthermore he has a belief that its strength should be the integration of its different societies irrespective of caste ,creed and sex.
Our beloved nation – India Our pampered nation India , the country in which every citizen has a freedom to worship according to his ritesand rituals ;where there is not any type of prohibition. It becomes the duty of every citizen of the nation not to hurt the integrity of the nation .All ourpast Teerthankars(Lord Almighty) had born on this soiland future Teerthankars(LordAlmighty) shall be born on this soil. So our country is great ,where a girl /lady after the death of her husband lives lonely throughout her life;where a son takes his parents in a palanquin to all the four pilgrimages .So our country is great. This is the place where Digambar saints for the sake of religion remove their hairs with hand and meditate.Every citizen of this nation prays to be again and again born on this soil and ultimately attain salvation from this soil .
Message To Youth

Munishree has lot of expectations from the youth . According to Munishree Science and technology will help India to become a greatest player in the 21 century.
Young generation is power of the world.There are ample oppurtunities for it in all dimensions as childhood has no past and old age has no future .A young person can illuminate the name ofhis country , family and religion. It is the best time for career shaping. Weall crave for a good job , for all the material pleasures of this world. Allthese material pleasures are obtained by virtues and latter is found in the eternity of a saint or in a temple .First and foremost we should remember our responsibilities and sense of duty; As what all are our duties with respect to our parents, religion and nation .Presence of this feeling is mandatory as all the above mentioned have expectations from us. This is the best time we can glorify their names .So my brothers , get up from your slumber ,peaks ofsuccess and height are inviting you , their arms are wide open to hug you.Always remember success and failure are separated by courage and fear respectively .If we have fear success turns into failure and if courage exists, we can turn failure into success. So , you have to step forward with courage.
Message To Students

Students are backbone of the society. A good student is the one who keeps in his mind that he has to serve his nation by making himself a positive character of society.A student along with his studies should also participate in extra-curricular activities for his overall development. Besides studies the virtues of religion should also be inculcated.They should spare atleast some time on every weekend to visit temple.Besides studying they should also pray to god .
Message To Jains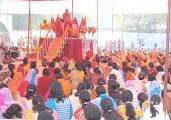 Munishri has taken the commendable task of binding the society.Munishree is spreading the light of religion all over India.He is awakening the society from the valley of darkness of ignorance and arrogance ,In words of Munishri it is important to change the thinking of society for the future generations.
Munishri has asked Jains to reunite and forget the difference of opinion among the different sects. One should not look them as Shwetambar and Digambar.Even with in these sects,sub-sects have been formed and there is lot of factionalism among them. Munishri has requested the entire Jain society to integrate and fight out the differences.
Munishri wants all jains to educate their wards properly and inculcate good traditions and etiquettes in them.It is the sole responsibility of all parents to keep an eye on every activity of his/her ward. Stress should be given on higher education so that the so called Business community can excel in other fields like science and technology,arts,commerce,media, entertainment,administration,sports etc.